UCD Confucius Institute for Ireland held the 16th Executive Board Meeting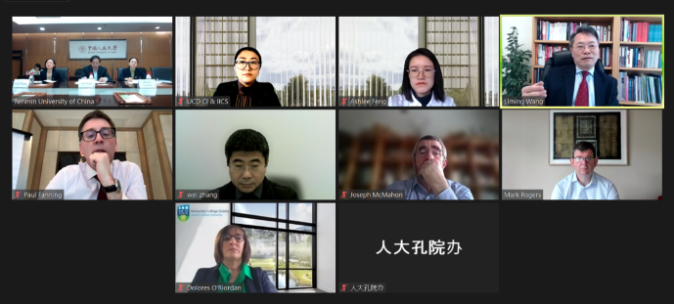 At 09:30 a.m. on March 20, 2023, the 16th board meeting of the UCD Confucius Institute (UCD CII) was held via zoom video conference. The meeting was presided over by the Chairman of the Board and Acting President of UCD, Professor Mark Rogers. The board members participated are Professor Dolores O'Riordan, Vice President for Global Engagement of UCD; Professor Paul Fanning, International Dean (China) and Provosts of BDIC, CDIC and GDIC; Professor Joseph McMahon - Professor from UCD Law School; Professor DU Peng, the Vice Chairman of the Board and Vice President, Renmin University of China; Professor ZHANG Xiaomeng, Director of International Office; Ms. LIN Yuan, Deputy Director of International Office; Professor Liming Wang - Director of UCD Confucius Institute and the Irish Institute for Chinese Studies. Observing participants of the meeting included Zhang Wei, Chinese Director of UCD Confucius Institute; Bian Xiaoyue from the Office of the Confucius Institute at the International Affairs Office, Wang Yanling and Ashlee Feng from UCD Confucius Institute. Professor Liming Wang reported to the board on the work of UCD CII in the past year and responded to the questions raised by the Board. The work plan and budget of UCD CII in 2023 was presented to the Board by Professor Wang and approved in principle by the Board at the Meeting.
Vice President DU expressed his appreciation to all board members' long-term support for UCD CII and complimented the Institute's continued growth and achievements despite the three challenging years of Covid-19. He reviewed the progress of collaboration and exchanges made between the two universities in the past few years and looked forward to deepening the cooperation in the future. In addition, he also notified the Board on the personnel changes in the Confucius Institute Office at Renmin and the Chinese director of the Confucius Institute.
Professor Rogers also commented that RUC and UCD's relationship goes well beyond the Confucius Institute, and UCD would certainly wish to continue to develop and deepen the relationship across all dimensions. UCD is delighted to be involved in positive collaboration with RUC and will continue to support as much the collaboration and activity as it can. He finally thanked the Board members for their attendance and looks forward to seeing everyone again soon.