Chinese Ambassador HE Xiangdong Unveils Confucius Classroom at Stepaside Educate Together Secondary
The unveiling ceremony of Confucius Classroom at Stepaside Educate Together Secondary School (Stepaside ETSS) was held at the UCD Confucius Institute Building. HE Xiangdong, the Chinese ambassador in Ireland, and Barbara Mulhall, the principal of Stepaside ETSS in Dublin, jointly unveiled plaque of the Confucius Classroom.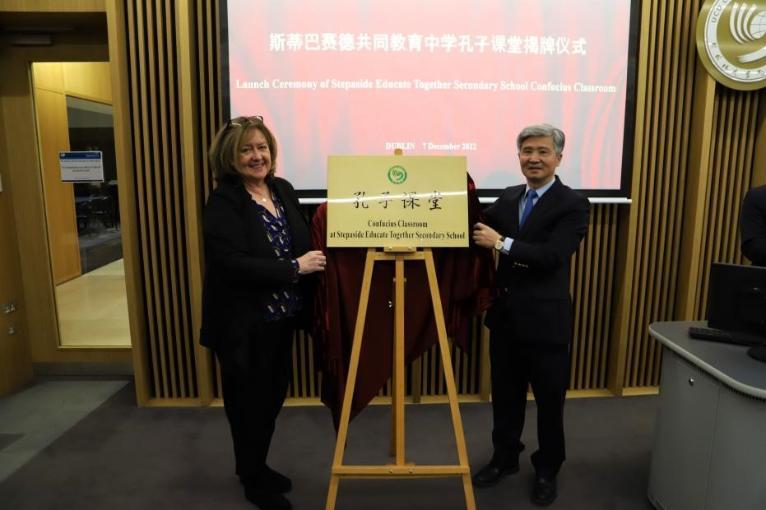 Dr Emer Nowlan, CEO of Educate Together in Ireland, Dr SONG Ruoyun, Head of the Education Section and First Secretary of the Embassy of the People's Republic of China in Ireland (TBC), Mr ZHANG Qi, Chief Journalist, Xinhua news in Ireland, Mr Garry Hodgins, Head of Chinese department at Stepaside ETSS, Professor Liming Wang, Director at UCD Confucius Institute and Irish Institute for Chinese Studies, and Mr ZHANG Wei, Chinese Director at UCD Confucius Institute, attended the unveiling ceremony.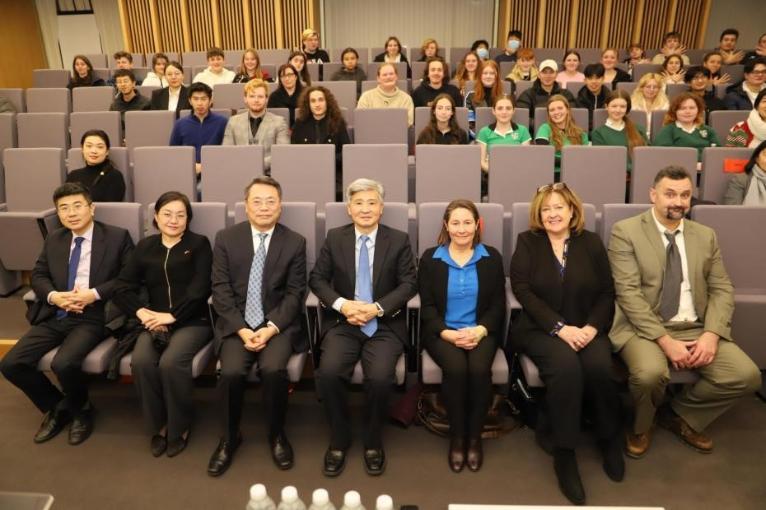 Before the unveiling ceremony, the guests visit the exhibition of the 2022 Hu Hu Sheng Wei New Year Cultural Workshop Competition. Greeting cards for the Year of the Tiger, Chinese paintings, pictures of the twelve Chinese zodiac signs, festive Spring Festival couplets and exquisite paper-cutting of the word "Spring" impressed everyone. The competition was a showcase of the students' creative way in presenting their understanding of Chinese characteristics and Chinese culture as well as their learning development.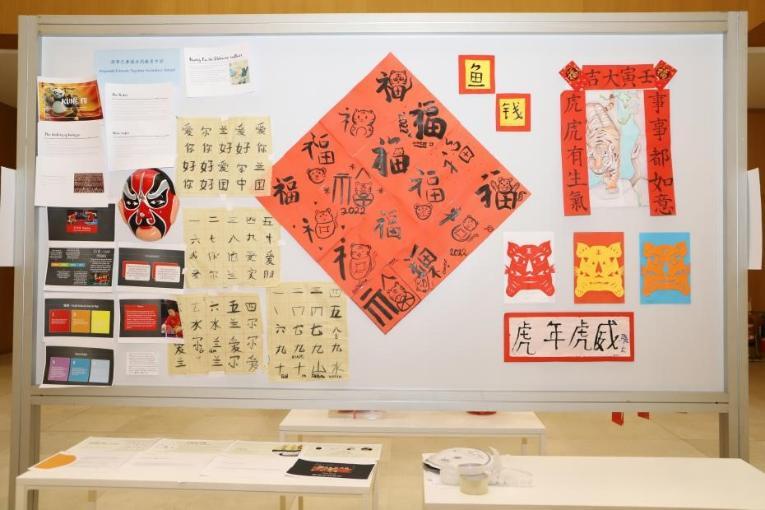 At the unveiling ceremony, Chinese Ambassador H.E. HE Xiangdong, Stepaside ETSS Principal Ms Barbara Mulhall and CEO of Educate Together Dr Emer Nowlan delivered speeches respectively, congratulating the establishment of the Confucius Classroom at Stepaside ETSS, and encourage the promotion of Chinese language and Chinese culture in secondary schools. Ambassador HE said that language is not only play a tool for human communication, but also could be an obstacle to communication. Therefore, learning different languages and cultures is an critical foundation for people and nations communication and understanding to each other. He hoped that the students would make effort in learning Chinese language and Chinese culture, getting ready to contribute the enhancement of the friendship and cooperation between the Ireland and China. Three impressive speeches were given by the students from Stepaside ETSS in Chinese in which their experience in learning Chinese and their best wish for studying Chinese were shared with the audience.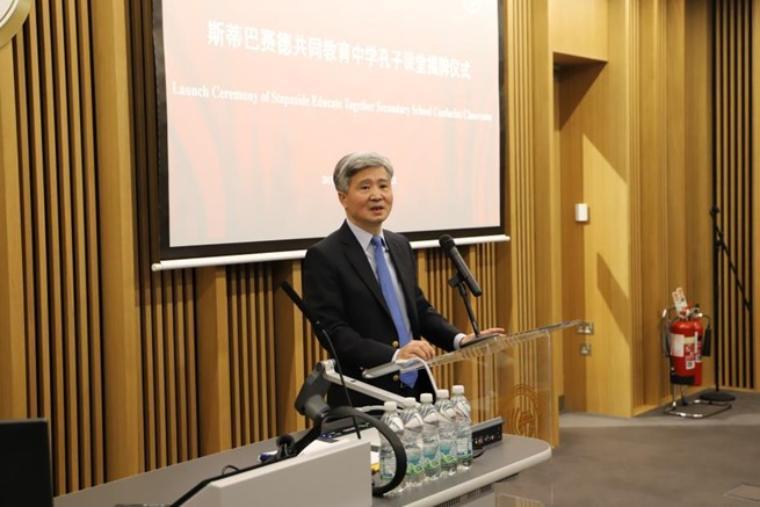 Stepaside ETSS is the ninth Confucius Classroom opened by UCD Confucius Institute for Ireland. Since 2017, the school has established the Department of Chinese Language and Culture, which has attracted more than a hundred students from four grades to take this subject to learn Chinese and understand Chinese culture. Stepaside ETSS told the audience that the school will offer Chinese elective courses for all freshmen from in autumn term to provide the opportunity and support to their students in learning Chinese.