15th UCDCII Board Meeting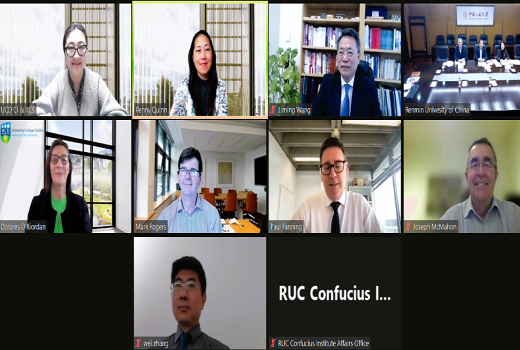 At 10:00 a.m. on March 30, 2022, the 15th board meeting of the UCD Confucius Institute (UCD CII) was held via zoom video conference. The meeting was presided over by the Chairman of the Board and Acting President of UCD, Professor Mark Rogers. The board members participated are Professor Dolores O'Riordan, Vice President for Global Engagement of UCD; Professor Paul Fanning, International Dean (China) and Provost of Beijing-Dublin International College; Professor Joseph McMahon - Professor from UCD Law School; Professor Du Peng, Vice President of Renmin University; Li Zhenshi - Director of Confucius Institute Affairs Office, Deputy Director of International Office, Huang Yishun - Executive Deputy Director of Human Resources Department of Renmin University; Professor Liming Wang - Director of UCD Confucius Institute and the Irish Institute for Chinese Studies. Observing participants of the meeting included Zhang Wei, Chinese Director of UCD Confucius Institute; Bian Xiaoyue and Shi Zhe from the Office of the Confucius Institute at the Office of International Affairs Office, Wang Yanling and Penny Quinn from UCD Confucius Institute.Professor Liming Wang reported to the board on the work of UCD CII in the past year and responded to the questions raised by the Board. He said that 2021 was another very challenging year for the Institute, but nevertheless overcame the extreme shortage of teachers and ensured the smooth operation of the Institute. Professor Wang explained the work plan and budget of UCD CII in 2022 to the Board. He also addressed related concerns of the board members. A few projects approved by the board of the previous year could not take place as expected and the surplus will be carried forward to 2022. In 2022 most of the events and activities are expected to resume offline and back to prior to pandemic level
Professor Rogers made compliments to the CII team that contingent education and cultural experience programmes were put together for UCD students who were unable to travel abroad due to the Covid-19 pandemic. Vice President Du conveyed his congratulations to the CII team for its success in another extraordinarily difficult year and appreciation to all board member's support to the CII, a renewal agreement between UCD & RUC has been signed in July 2021. Vice President Du congratulated Professor Wang, for receiving "Confucius Institute Director Medal" for his great service for the past 16 years, awarded by Chinese International Education Foundation in September 2021.
Vice President Du proposed to promote exchanges and cooperation with UCD for RUC's School of Art for a double master's joint programme, and to carry out joint lectures, exhibitions, etc. The school consists of the Department of Music, Department of Art Design, Department of Art Theory and the Department of Painting. Acting President Rogers and Professor O'Riordan, also welcomed Vice President Du's proposal to enhance the collaborations in the fields of art and music between the two universities.
To conclude the meeting, Professor Rogers expressed his gratitude for the time, effort and resources that RUC has dedicated to the CII. Vice President Du shared his expectation that the two universities should enhance their further cooperation in the areas of co-hosting international forums, participating in RUC summer school as well as online education programmes and activities. He also expressed his wish to see everyone in person again in Beijing in the near future.