UCD CI Holds Online Farewell Party for Leaving Chinese Teachers
UCD CI Held an online farewell party for the leaving Chinese teachers on May 21, 2021. Due to the Covid-19 pandemic, the face-to-face party was moved online this year. Ms Xuan Yang hosted the party of 28 people including UCD CI Director Professor Liming Wang, UCD CI Chinese Director Mr Wei Zhang, UCD CI Deputy Director Dr Lan Li. The attendees looked back on their work, achievements and inspirations over the past few years.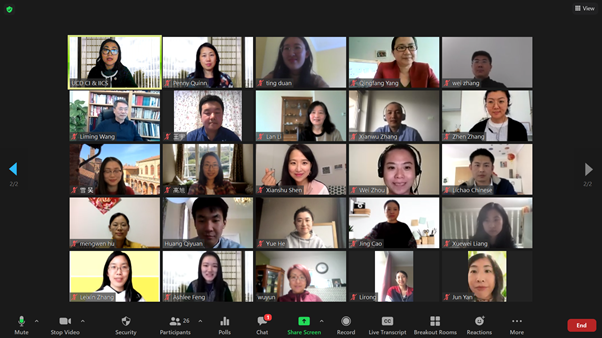 Professor Wang expressed his gratitude on behalf of the Institute to the teachers for their hard work in the past year. Looking back on what the four leaving teachers have achieved, Professor Wang thanked them for their selfless efforts, and wished them the best of luck in their future career. He said that the teachers will always be missed by the UCD CI staff and students, and they are always welcome to come back for a visit anytime in the future.
Mr Wei Zhang highly commended and thanked the teachers for their hard work, without which the UCD CI would not have been operating so smoothly during the pandemic. He also thanked all the teachers for their self-discipline and compliance to protect themselves and their families during the fight against the pandemic. He wished them a safe journey back to China and hoped that the teachers will stay in touch with the Institute.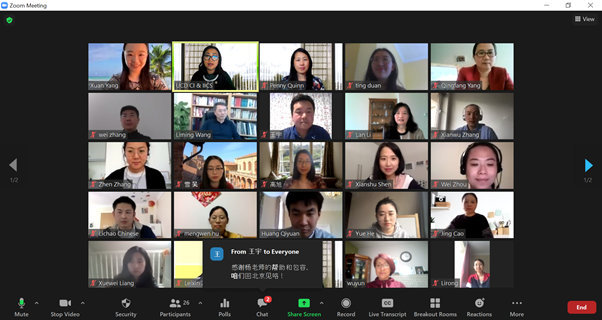 Dr Lan Li shared her experience of the pandemic. She called on the teachers to not only disseminate knowledge and culture, but also care about the human ecosystem and work towards a more harmonious world. She then read a letter representing all parents of the Dublin Class for Children, thanking the teachers for their hard work. Dr Li also expressed her gratitude to the teachers.
Each of the four leaving teachers namely, Qingfang Yang, Yu Wang, Xianwu Zhang and Ting Duan delivered a speech, remembering their life and work experience in Ireland and thanking the leaders and colleagues of the Institute. The party MC hosted a game session which all the attendees enjoyed playing. A farewell video collection from current and previous teachers was played to wish them the best of luck. The party ended with a sense of nostalgia.