"Chinese Bridge" 2020 Chinese Proficiency Competition for Irish College Students
The 2020 "Chinese Bridge" Irish Sub-contest Area will be held on April 18th 2020 in Dublin, Ireland. It will be hosted by the Confucius Institute Headquarters (Hanban) and organised by the Education Section of the Chinese Embassy in Ireland, the UCD Confucius Institute and the Irish Institute for Chinese Studies at UCD.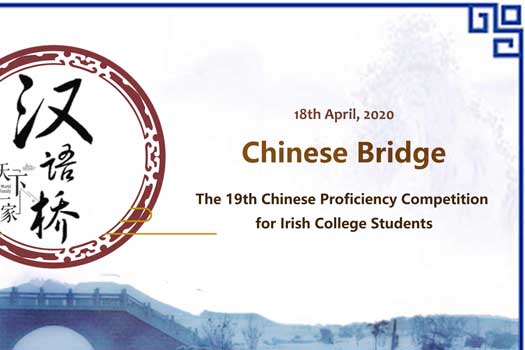 This competition aims to provide an opportunity for young college students in Ireland to show their tenents and skills in learning Mandarin and to learn from each other. It is also designed to enhance their enthusiasm and interest in learning Mandarin as well as their understanding of traditional Chinese culture. All of you are warmly welcomed to join!
Theme of the 2020 "Chinese Bridge"
One world One Family
Focus of the 2020 "Chinese Bridge"
Competition of 2020 Chinese Bridge will center on the following items.
Chinese language proficiency: listening, speaking, reading and writing skills.
Chinese cultural skills: Chinese songs, dances, instruments, drama, martial arts, calligraphy, painting, etc.
Process of the 2020 "Chinese Bridge"
The competition will be divided into two stages: preliminaries and finals.
Preliminary Competition
Free speech in Mandarin (50%)
Chinese talent show (50%)
The participants will give a 90-second self-introduction and then a keynote speech, the topic of which must relate to China.
Please note that participants should choose a different topic from those in their preliminaries' if they win the preliminaries to the finals.
The participants should perform programs that relate to China for no more than two minutes. There is no limitation on the forms of performance.
After preliminaries, eight participants will be selected by the panels to enter the Final Competition in the afternoon of the same day.
Final Competition
Speech Contest with the given topic "One World One Family." (50%)
Chinese Arts Performance (50%)
The participants will be asked to give a speech in Mandarin for no more than 2
minutes, followed by a Q&A session. The participants should answer the panels'
questions in Mandarin.
The participants should perform their Chinese Art programs for no more than 5
minutes. Please note that points would be deducted if participants exceeded the time limitation.
Prizes of the 2020 "Chinese Bridge"
Number of First Prizes: 1
Number of Second Prizes: 2
Number of Third Prizes: 3
Number of Most Promising Awards:2
Please note that only the winner of the First Prize is eligible to attend the international
level final competition that will be held in China, and has the opportunity to win the Confucius
Institute Scholarship.
Entry Requirements
Before your registration, you should know and acknowledge to meet the following
Age: 18-30 years old.
Nationality: non-Chinese.
Language: non-native Chinese speakers (both participants and their parents).
Education: College students.
Additionally, please note that,
The award winners of the previous "Chinese Bridge" cannot register and attend
Non-Irish College students can register if they agree to represent Irish it again.
participants to attend the final competition in China.
Time and Venue
The competition is scheduled from 9.30am to 5:30pm, April 18 th 2020 (Saturday), at
UCD Confucius Institute. All participants are required to attend the activity with their
identification documents.
How to Register online
Participants should finish online registration by filling in the online registration form
and uploading their identification documents. There is no registration fee. • Obtain and fill in the registration from kangting.zhang@ucd.ie and then send it back.
Alternatively, scan the QR code using WeChat to enter the online registration page
and finish the submission. You can download and use WeChat on your phones
The deadline for registration is April 10th 2020 (Friday) at 5:00pm Irish time. • It is recommended that participants with disability/medical condition or extenuating circumstances should note on the registration form if assistance is needed.
Q&A
If you have any queries, please feel free to contact Ms. Kangting Zhang by zhang@ucd.ie.